Read this article to find out the affect that automating a hospital Kanban and PAR inventory management system can have on nurse satisfaction:
The burden on nursing staff when the manual Kanban and PAR system was in place
The benefit of a hybrid Kanban and PAR solution
The impact of automated inventory management on nurse satisfaction
When changes are made to inventory management systems, the subsequent evaluation usually measures the financial and operational improvements – it rarely illustrates the impact on the workforce.
We want to share the findings of a case study that measured nurse satisfaction alongside the regular metrics, following the introduction of an automated Kanban and PAR system.
Background
Sheba Medical Center is one of the largest hospitals in Israel. Hospital management had identified several healthcare inventory management challenges, which are common among many healthcare providers, these included:
The time taken by nurse and logistics staff to check/count supplies
Overcrowded and disorganized storerooms
Restocks based on inaccurate data and guess work resulted in surpluses and stock shortages
Nurses were dissatisfied with the amount of supply chain admin they needed to undertake
The manual Kanban and PAR bin system in place was a drain on nurse time and they felt dragged into supply chain administration, at the expense of patient care.
The hospital sought to lighten the load on their busy nursing staff, attempting to reduce supply chain administration and boost nurse morale.
Inventory Management Solution
The hospital selected IDENTI's Kanban and PAR automated inventory management suite as the best way forward. This hybrid system is made up of several automated solutions:
PAR Weighing Bins – wireless, autonomous and digital scale bins that self-replenish
Restock Tags– a digital tag with a restock button – just one click to generate an order
Scan and Restock App– creates and monitors orders via a mobile app
The hospital chose three different solutions to cater for different types and values of stock items.
These three solutions enabled the hospital to digitalize their existing, manual Kanban and PAR system, creating an automated inventory management solution with the existing hardware.
This kept costs and disruption to a minimum, while achieving the benefits of an automated inventory management system.
All of IDENTI's Kanban and PAR solutions are managed by the same central cloud AI Platform, giving full inventory vision and tracking as well as meaningful data metrics. The system also automated restock orders at pre-set points, ensuring that stockouts and surpluses were a thing of the past and that inventory could be streamlined as it was now based on accurate data.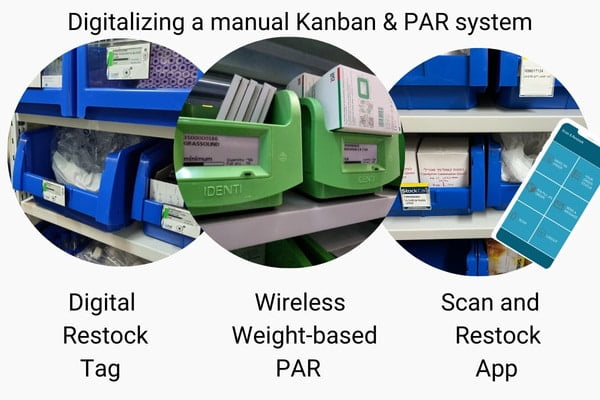 Case study methodology
The hospital wanted to undertake a trial of the new system in one area, prior to rolling out further.
The methodology for the review of the automated and hybrid two bin Kanban and PAR system included data collection, staff interviews and the mapping of processes and storerooms. This provided a benchmark to compare performance before and after the arrival of the new system.
Implementing the new automated Kanban and PAR solution
Hospitals can elect to keep their supplies' rooms in the same configuration, without making any changes, when introducing the hybrid 2 bin Kanban and PAR system. This hospital however, decided they wanted to take the opportunity to reconfigure and reorganize the supplies' room, which was previously overcrowded and untidy.
The new hybrid Kanban and PAR system led to:
better layout, increased storage capacity and optimized shelf space – creating order in previously disorganized spaces.
less time required to restock the better-organized supplies rooms.
it being quicker and easier for nurses to find and access supplies.
more flexibility in terms of bin placement – in particular for the weight-based PAR bin, as it is an individual, portable unit that comes in 3 sizes – as opposed to being part of a fixed wall unit.
The impact of the automated Kanban and PAR system on nursing staff
During the trial it was noted that the new system meant that nurses no longer had any responsibilities relating to ordering stock:
Nursing staff time spent on stock orders dropped from 2 hours 39 minutes to zero
There was a reduction of 86% in nursing time spent on supplies organization
Having a fully automated Kanban and PAR solution resulted in the elimination of logistic tasks for nurses and significantly improved their job satisfaction.
Nurse satisfaction increased from 53% to 90%
A nurse survey taken after the introduction of the IDENTI Kanban and PAR inventory management system found improved satisfaction across a range of metrics.
The highest spike in satisfaction related to flexible configuration which resulted in better-organized stock rooms. Other positive feedback related to increased satisfaction with the materials management service and better delivery times.
The ease of accessing supplies, the improved turnaround of stock and the release of nursing staff from involvement in material management matters had a big impact on levels of satisfaction among nursing staff.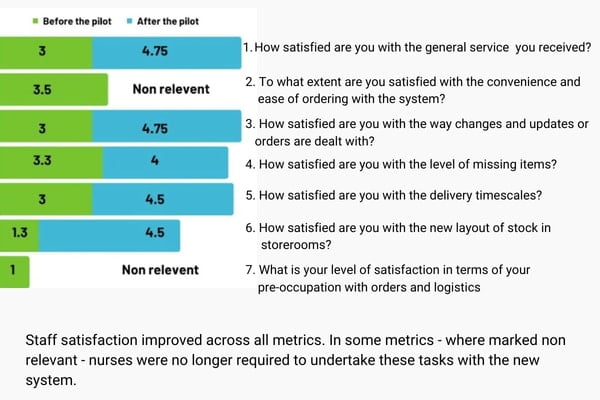 Reduced supply chain admin = happy nurses
So, it's official, reducing supply chain admin does lead to greater nurse satisfaction.
Of course, there were many other benefits too!  Reduced costs, a streamlined inventory management process, less labor for the logistics team and much more.
See the full case study on the supply chain improvements achieved after implementing IDENTI's automated Kanban and PAR solutions.
Contact us to find out more about our automated, hybrid Kanban and PAR solutions.
Read this Kanban and PAR solutions blog for the lowdown on each product.
We can make both your materials management team and nursing staff smile!
THIS IS THE BEST TIME TO START SAVING
Are you intrigued by the immense potential of the IDENTI ecosystem in not only streamlining operations but also significantly reducing costs?