Ambulatory care Solutions
The outpatient sector is growing...
… both in terms of patient numbers and competition in the market.
As organizations prepare for growth, the systems and tools they use need to be able to cope under increased pressures. Workflow workarounds that were tolerated with a lower volume of patients will become a bottle-neck as the organization scales up.
IDENTI can guide ambulatory healthcare service providers toward time-saving, and even life-saving, tools that can sharpen both clinical and operational performance.
We can help you:
Develop a clinically-integrated supply chain that puts an end to working in silos.
Reduce inventory costs by streamlining your high value inventory and automating restocks.
Tackle PPI variance and improve standardization – reducing the cost of care and improving your competitive edge.
Lower nurse time spent on supply chain admin –improve nurse morale and work smarter to better manage staff shortages.
Achieve 100% utilization documentation – optimizing reimbursements.
Avoid 'never events' by adding automation to your expiry and recall management.
Deliver digital, end-to-end implant tracking – for full compliance and optimal patient safety.
Optimize your position in a competitive sector 
We comprehend the unique challenges faced by ambulatory surgical settings (ASCs)and have identified shortcuts to achieving success and profitability. IDENTI offers state-of-the-art tools designed to empower ASCs and HOSCs by simplifying complex workflows. Our innovative point-of-care solutions are strategically crafted to address inefficiencies and streamline operations, ensuring a more intelligent approach to patient care
Multiple tools, one bundle – We have a range of healthcare inventory management products especially designed for the surgery setting – ideal for outpatient and ambulatory surgery centers. We work with you to select a 'best fit' product bundle that meets the full range of needs across your organization. All our products link in to central cloud management software.
Suitable for all specialties –

We develop 'perfect fit' solutions that seamlessly slot into your outpatient or ambulatory surgery center software systems. It doesn't matter If you specialize in Orthopedics, Pain Management, Ophthalmology, Plastic Surgery or Endoscopy surgery – We work with you to streamline your workflows, prevent data gaps and optimize reimbursements. 
Get the edge with clinician-friendly inventory tracking tools. 
Ideal for Ambulatory Surgery Centers and Hospital Outpatients Surgery Centers.
Reduced costs, reduced wastage, increased reimbursement to help your center achieve greater financial stability.
Gain full visibility and fully automated restocks of your high value medical inventory. No more paper-work!
Elective Surgery Efficiency
Pre consumption expiry alerts, and pre & post-surgery recall management, help boost patient safety and avoid liability risk 
IDENTI AMBULATORY SERVICE SOLUTIONS LINE
Implant and tissue tracking
An automatic inventory management system that gives you complete control and item level management in operating and procedural rooms. Integrates smart cabinet tracking tools with RFID technology and cloud software to solve supply chain challenges.
Implant record at point-of-use
Patent-protected SNAP&Go maximizes the business potential of OR and Procedure Rooms, while increasing patient safety. SNAP&GO digitally records product information and usage at the point of use – all in one 3 second snap.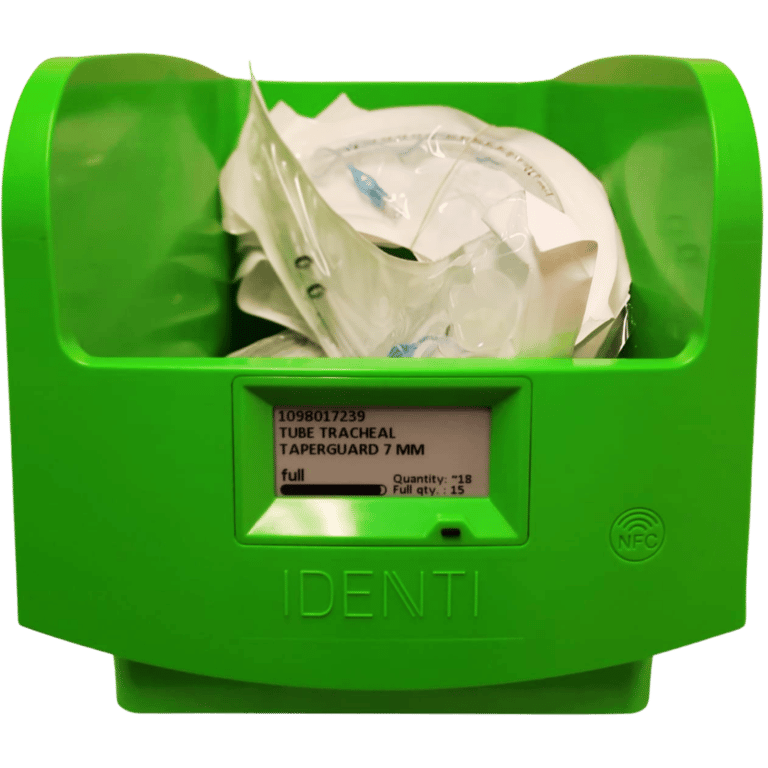 Medical supplies replenishment
Our digital Kanban & PAR inventory management solution suite is AI powered and automates inventory tracking and restocking. The bins are suited to any type, size or configuration of stock. 
A cloud based platform powered by artificial intelligence and machine learning, that connects suppliers to hospitals. Identify patterns of point-of-use data to resolve inefficiencies, boost revenue cycle and improve the quality of patient care.
Full control over narcotics
The secure Narcotics Cabinet is a controlled drugs and narcotics dispenser that is designed for use by physicians, anesthetists and nurses in the surgical setting. The cabinet integrates web-based inventory management software.
Gas cylinder stock management & curtain disinfection and cleaning. For automated maintenance and counting processes in a timely routine.
Explore the Heart, Vascular, and Leg Center (HVLC) digital transforming in inventory management
This case study delve into the challenges, the solutions implemented, and the remarkable outcomes achieved through the integration of Snap&Go and TotalSense cutting-edge technology.