AUTOMATED PAR LEVEL SOLUTIONS
PAR bin automation technology for medical supply management
AUTOMATED PAR LEVEL SOLUTIONS
Automate your PAR-level inventory system in healthcare
Switch from manual to automation
Achieve a perpetual inventory
Take the legwork out of logistics
IDENTI's automated PAR solutions deliver accurate supply chain management while reducing labor and costs.
IDENTI'S AUTOMATED PAR SOLUTIONS:
Wireless Weight-Based Bin
The first ever digital, wireless, weight-based PAR bin!
Introducing the bin that manages its own restocks.
Weight-Based PAR bins have finally been set free from cumbersome units – providing a portable, automated solution!
5 sizes – from 'skinny bins' to extra-large:
We understand that your medical supplies come in all shapes and sizes, so we designed a range of bins to suit all types of stock.
Meet the Wireless Weight-Based Bin
The next generation of PAR supplies management is here.
Integrated digital screen displays real-time data
Quick and easy bin set-up
Automated, timely restocks
Single management system for multiple storage locations
Take a look!
It just takes a minute to set up a new bin or switch product:
Open the app and tap device against the bin
Enter the SKU details and PAR level
Calibrate the weight via the app
Digital screen is now set up.
You're ready to grab & go!
Supplies order management via RFID tags and NFC-compatible devices.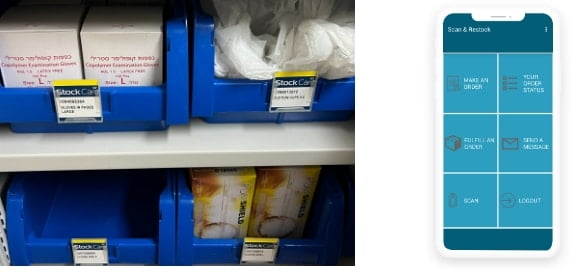 RFID tags are attached to each bin to add automation.
Scan each tag via the app to add, track or update orders for each bin.
Connects to a cloud AI management system.
The budget-friendly PAR automation option.
Press the button to track usage.
Automated restocks at the pre-set order point.
RFID tags attach to each bin or tray, for easy automation.
Nurses simply press + or – when they remove or return an item.
The system generates a restock order at the pre-set level
Compatible with mobile devices with NFC.
Benefits of automating your PAR system:
Reduced inventory!
Streamlined workflows!
Improved accessibility
and availability of
medical supplies
Reduced costs!
Reduced waste!
IDENTI's automated PAR solutions fit in with your current store room configuration.
Wireless, weight-based PAR fits into your existing supply room set-up.
Scan&ReStock and Stock Pick attach to your existing bins.