Automation technology for 2-Bin Kanban in healthcare
Digital tags to automate your two-bin Kanban system
Switch from manual to automation
Achieve a perpetual inventory
Your easy route to an automated two-bin Kanban solution
Transform your healthcare supply chain with our smart kanban solutions
IDENTI'S AUTOMATED KANBAN SOLUTIONS:
A digital tag that can be attached to your existing Kanban bins for instant automation.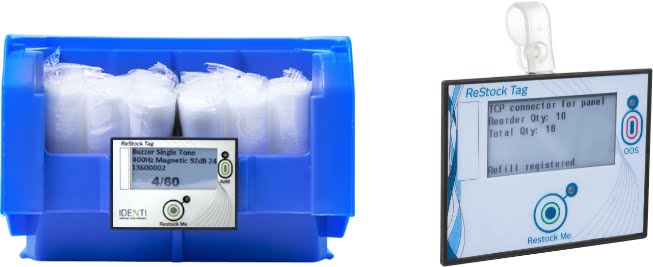 Just one press of the ReStock Button triggers a new order.
The current stock status is displayed on the tag. 
Materials management chooses how to work:

Receive restock reports or 
Automated requisitions via your ERP system
Supplies order management via RFID tags and NFC-compatible devices.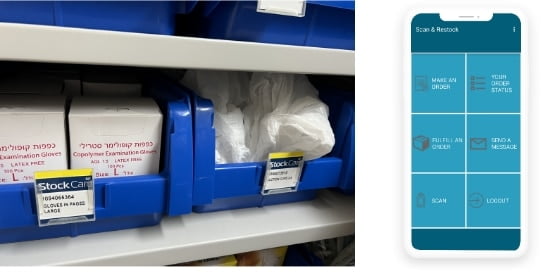 RFID tags are attached to each bin to add automation.
Scan each tag via the app to add, track, or update orders for each bin.
Connects to a cloud AI management system.
The budget-friendly Kanban automation option.
Benefits of our automated 2-bin Kanban solutions:
Supports an average 40%
one-time reduction in
supply room inventory
Reduces waste by achieving a 'right size' inventory
No more stock-outs or surpluses
Cuts down on management time and costs
Our simple Kanban & PAR Dashboard is designed for easy inventory management.
All our Kanban and PAR solutions are managed under the same cloud software, providing centralized data from all storage areas.
Seamless integration with hospital systems, plus the option to link to vendor ERPs for enhanced synergy and transparency.
INSTALLATIONS: WE BUILD ON WHAT YOU'VE GOT!
IDENTI's Kanban solutions are suitable for any store room configuration.
Tags can attach to bins, shelving or drawers.
We fit in with your current set-up.