As you navigate the budgeting process for 2024, you have the opportunity to address supply chain inefficiencies that are hampering your organization's clinical, operational and financial performance.
This blog looks at:
Common supply chain challenges in healthcare.
Solutions for improved SCM management
How advanced technology can improve financial outcomes.
Now that you are budgeting for 2024, it's time to evaluate new technology that could tick off many of your targets. Patient health is paramount, but financial health is vital for providers too.
Tackling negative margins in healthcare in 2024
Negative margins have plagued US healthcare organizations in recent years. We are seeing renewed efforts to get the basics right, and it makes sense to start with areas of high expense. Addressing inventory management inefficacies can futureproof the delivery of care and optimize cash flow.
An inefficient hospital supply chain may have these financial red flags:
inflated expenses
a bloated inventory
unnecessary wastage
labor-intensive processes
supply chain data rife with errors and omissions
Incorporating technology into the hospital supply chain is now a priority for many, as there is growing recognition of the positive impact it can have on performance.
Healthcare leadership faces numerous supply chain challenges – we'll take a look at the most common issues and highlight transformative technology that will deliver an excellent return on investment.
Lack of real-time inventory vision
The problem: Using manual processes, or outdated technology prevents the logistics team from gaining clear inventory vision, and this leads to a 'best guess' culture where inaccurate procurement is common. This way of working is cost-laden and inefficient, with regular overstocking, shortages and stockouts.
The solution: It's vital to make informed decisions and allocate resources effectively. Advanced supply chain technology achieves real-time inventory tracking. A good inventory management system will inform decision-making and support demand-lead procurement.
Budget advice: Evaluate tools that provide real-time inventory vision and deliver data analytics.
The benefits: A reduced inventory, lower holding costs, lower procurement costs, reduced wastage, reduced surgery delays and cancellations.
Inefficient tracking of medical inventory – especially at the point of care
The problem: Even where providers have systems in place to manage and monitor stock, there are often issues tracking surgical usage at the point of care. Nurses are responsible for all supply chain management behind the 'red line', and they commonly struggle to document every reportable item.
The solution: Improve point-of-use data capture technology and sever the reliance on the Item Master to identify products.
Budget advice: Evaluate point of use documentation tools that operate independently and harness digital and AI technology to add speed and efficiency to surgical data capture.
The benefits: Full item and charge capture in surgery. Optimized OR revenue, accurate utilization data for data-driven inventory management. Improved patient safety and regulatory compliance.
Reducing inventory wastage and lowering supply chain costs
The problem: Excessive inventory, obsolete stock items, disorganized storage spaces and inefficient stock control can all lead to products expiring before use, leading to wastage. Some stock items are high value implants, and the financial impact can be significant.
The solution: Automated inventory tracking can monitor expiry and report on soon to expire and expired inventory, as well as highlight any recalled items that have not been removed from stock.
Budget advice: Unnecessary procurement and wasted products disrupt cash flow and reduce profitability. Evaluate inventory tracking software that flags up expired products, so that these can be prioritized for usage.
The benefits: Wastage due to expiry is an entirely preventable issue – gaining control of stock results in significant cost savings. Preventing the usage of expired and recalled items also boosts patient safety and compliance, plus mitigates litigation costs.
Moving away from labor-intensive practices to improve staff capacity
The problem: Nurses can spend hours hunting down inventory. Material management staff can literally run around in circles all day, checking inventory levels. Supply chain tasks are often tiring and time-consuming. As 2024 approaches, can you really justify inefficient manual processes, when automation is available?
The solution: Digital technology facilitates the easy location of every stock item. Systems can also report on real-time stock levels and generate restocks, when the order point is reached.
Budget advice: Free up your staff! Evaluate automated solutions that monitor inventory and automate restocks, as well as make it easy for nurses to locate every item they need.
The benefits: Timely restocks, reduced shortages and stockouts, increased staff capacity (nurses and logistics), enhanced productivity, increased focus on patient care.
Adding visibility to supply chain data for improved management and future planning
The problem: Sadly, it is common for healthcare management to make decisions based on the partial picture. There may be errors and omissions in the data they use, which can lead to misinterpretations and flawed decision making.
The solution: Two things need to happen for managers to receive accurate supply chain data.
Hardware

should provide full, accurate and timely data.

Software

should interpret this data and turn it into meaningful insights.
Budget advice: Look at the managing software of any system you are considering. Is the data produced meaningful and timely? Also consider ease of interoperability and scalability.
The benefits: Identification of areas of inefficiency, cost-saving opportunities and waste. Leveraging of data insights leads to more informed management and stronger vendor negotiations.
Benefits of Upgrading SCM Technology in Your 2024 Budget:
Healthcare supply chain technology can be a gamechanger and completely transform broken inventory management processes into lean, cost-effective systems, achieving:
streamlined supply chain and clinical workflows
reduced labor / improved staff capacity
automated requisitions, for accurate and timely restocks
cost savings
reduced waste
data insights for improved decision-making
improved forecasting
improved adaptability to changes in demand or supply
enhanced patient safety
improved patient satisfaction
improved compliance
By including SCM automation solutions in your 2024 budget, you can significantly improve the efficiency, performance and profitability of your healthcare organization.
AI, machine learning and other advanced technologies are changing the game and organizations not jumping on board are going to struggle to keep up.
Introducing IDENTI Solutions:
IDENTI Medical offers cutting-edge solutions designed to transform your healthcare supply chain.
We specialize in data sensing tools for the surgical suite, one of the most difficult areas to achieve data integrity. Our solutions ensure that management and staff have real-time access to inventory data for enhanced operational efficiency and performance.
Two of our products are being recognized for their innovation and fresh new approach. Both tackle areas that traditionally suffered from data inefficiencies.
Snap & Go

: Image-recognition and AI combine to deliver point of use product tracing in just three seconds. Finally, full item and charge capture at the point of care.
Wireless Weighing Bin: A digital, portable, self-replenishing weighing bin. Next-level PAR inventory management.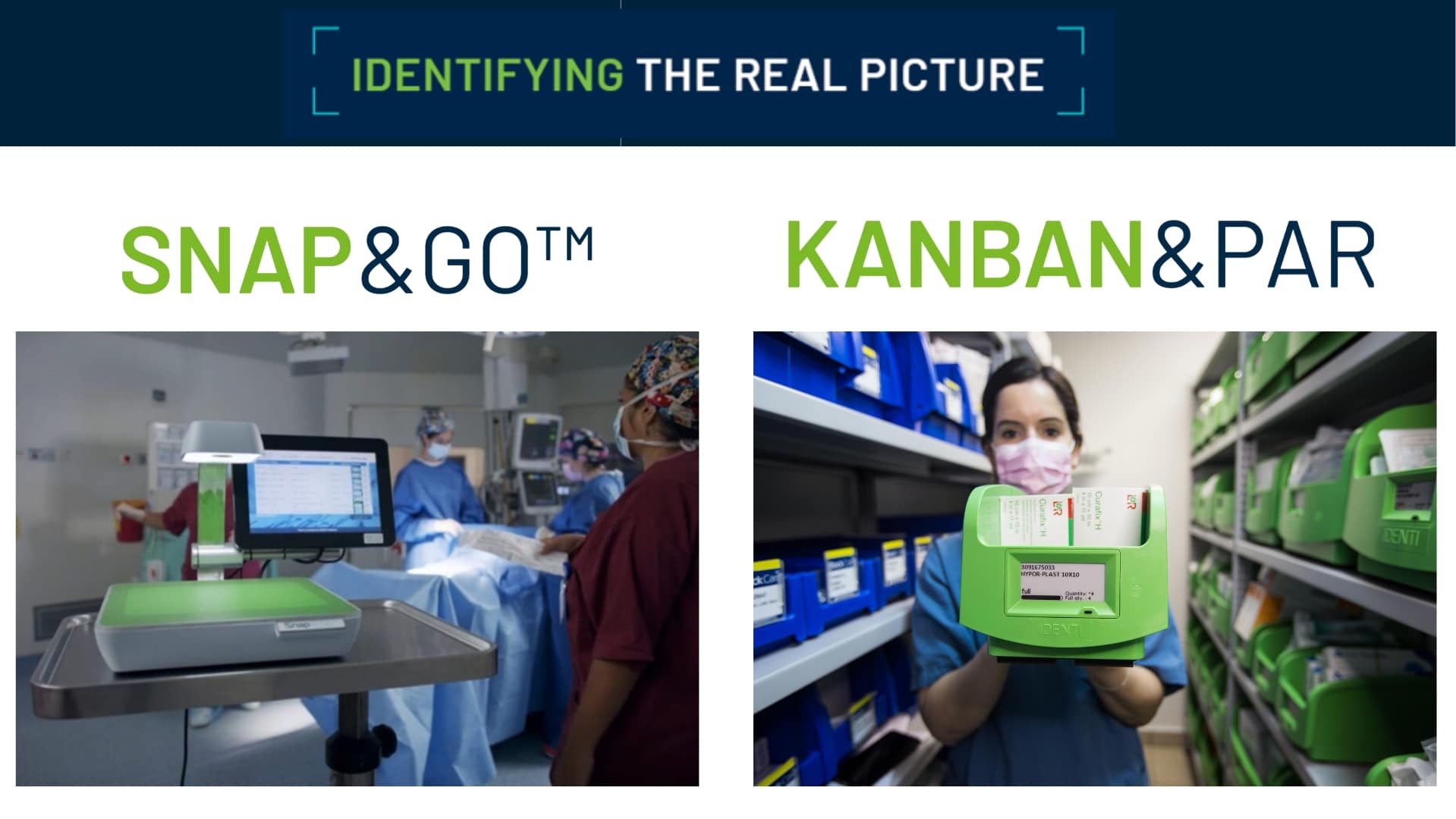 Check out our full range of products which manage all types of medical inventory – medical devices, tissue, implants, narcotics and general medical supplies. Our single-cloud platform and seamless interoperability make implementation a breeze.
It's time to explore and evaluate new IT innovations. Embracing IDENTI's technology in your 2024 budget holds the key to futureproofing your healthcare supply chain.
Contact us for a discussion on using technology to futureproof your supply chain, and we'll work with you to support improved performance for 2024 and beyond.
THIS IS THE BEST TIME TO START SAVING
Are you intrigued by the immense potential of the IDENTI ecosystem in not only streamlining operations but also significantly reducing costs?