Introduction
Because Never Events are devastating and preventable, hospitals and healthcare providers are under increasing pressure to eliminate them completely. There are many actions taken, but ultimately OR nurses are the first and last line of defense for not only patients but physicians as well.
Recent sentinel events led us to think there is a connection between inefficiencies in the clinical teams' work process in the OR and procedural rooms, leading to frustrations, fears, and ultimately burn-out, caused by non-clinical duties.
In this white paper, we've identified several pain points that OR nurses routinely face and may distract from patient care and the ability to serve as the last line of defense.
Frustrations, fears, burn-out may be directly traced to non-clinical duties and ultimately lead to preventable errors. OR nurses are striving to deliver optimal patient care. They deserve our support to alleviate this unsustainable situation so they can better focus on their primary goal—to deliver optimal patient outcomes and safety.
71% of events reported to the Joint Commission over the past 12 years were fatal
OR nurses are a special breed. They work long shifts in a stressful environment which can become life-threatening at a moment's notice. They are highly skilled and show extreme dedication under difficult circumstances every day (or night) they come to work.
We need to provide them with tools that will be there, for them, in stressful moments. Existing solutions today focus on smart storage or data analysis.
It's like equipping a lumberjack with a pocket knife…
Understanding Nurses' Fears is the First Step in Establishing a Safe Line of Defense
Over the years, alongside a dramatic increase in the OR caseload, led to an unsustainable and stressful work environment leaving OR nurses frustrated and discouraged that they are not giving their patients the highest quality care they were trained to provide. A survey of over 300 OR clinicians found that 23% of those surveyed did not have enough time for patients and 26% reported that too much paperwork was the most stressful part of their job. Another survey reported that almost one-third (31.5%) of nurses left their profession due to burnout.
1. Fear of not being able to protect their patient's safety
Surgical procedures may involve medical implants, narcotics, surgical kits, and medical equipment. A tight, efficient workflow is needed to ensure that only pre-checked items are cleared for use. Even one mistake can have serious consequences. Whether the hospital is a high-functioning healthcare organization or one that has difficulties with billing, charting, or supply management processes, OR nurses, are the last line of defense, finding themselves responsible for weeding out recalled and expired items.
1 MILLION medical devices were recalled In Q1 of 2019
While expiration dates can be found on the packaging, knowing which items may have been recalled is almost impossible. Recall notices can arrive at hospitals via faxes, certified mail, standard letters, and e-mails from manufacturers, distributors or through websites and listservers.
Recalled items are identified by their batch(lot) values. This information is not always readily available to OR staff and is constantly changing. Commonly used barcode scanners have not solved this problem sufficiently. In recent years the amount of recalled Class 1 items that carry a reasonable probability of death jumped drastically. In Q1 of 2019, over 1 million medical devices were recalled and a Harvard Business school study found that between 2017 and 2018, life-threatening Class 1 recalls increased 9,811%, representing a direct threat to patient safety.
These alarming statistics spotlight the pressures OR teams are under to ensure that a recently recalled item, particularly a Class 1 medical device, is not inadvertently used in surgery. They also know that getting caught using recalled devices could have serious repercussions and undermine their hospital's reputation.
26% of nurses report: Too much paperwork was the most stressful part of their job
DAMAGED BREAST IMPLANTS CASE STUDY
The case of recalled breast implants (2011) manufactured by Allergan demonstrates the direct impact of accurate product information capture on patient safety. After36 deaths, the FDA instructed the manufacturers to notify and warn tens of thousands of their implant recipients.
Allergan admitted that it could not track down some 52,000 implants, leaving those women in danger of adverse effects.
If only full digital documentation of batch numbers had been made in the transplant patients' files, the names of the women could have been extracted using a simple computer query. A similar case occurred in France, where the hospitals were at the center of the storm with harsh allegations that damaged the professional reputation.
2. Fear of drowning in non-clinical tasks
OR clinicians are first and foremost focused on the welfare of their patients. This is why they chose to work in the OR—to provide the very best care they can. Anything that distracts them from this primary duty is seen as an unwelcome disruption. Non-clinical tasks have only increased over the past decade with CMS documentation reporting requirements. Health information technologies (HIT) were introduced as a solution to unburden nursing staff of many of the administration and inventory. documentation tasks that deter them from patient care. Sadly, HIT has not always lived up to its promise, especially in the OR.
A recent review of published studies found that for medical providers that implemented EHRs, there was a 22-46% increase in the time spent in the documentation for both nurses and physicians. If a nurse is preoccupied documenting the 40 screws and 20 plates used in a procedure, while checking expiration dates, sizes, and other critical information, she is not fully attentive to anticipate what the surgeon needs and how the surgery is progressing.
3. Fear of running out
Due to the urgent, unpredictable nature of the OR environment, scrambling for items not planned for (and not found on the procedure cart) is a daily occurrence. To compensate for this, OR staff often "stock up" at a higher level than Materials Management would like. This creates a constant tension between Materials Management and the OR staff. While nurses strive to ensure that each item, in all possible sizes and variations they could possibly need is at their fingertips, Materials Management's goals are to lean out the supply chain waste and duplication. In addition, OR nurses are often accused of overstocking or hoarding.
One survey found that nearly 50% of OR clinicians practice hoarding. In some areas in the hospital, nurses find that they are spending too much time on inventory management and do not feel sufficiently supported by supply personnel.
50% OR clinicians practice hoarding.
In some hospitals, Materials Management tends to treat supplies sent to the surgical department as consumed inventory, even though many items may remain intact on the shelves for months where they may expire. Because surgical wards are closed areas to supply management, it is the OR team's responsibility to communicate low levels of product to Materials Management which is often verbal and manual, and in some cases creates delays in the replenishment of the items, and may cause a conflict between teams. A recent survey (February 2021) found that 65 of the 100 nurses questioned reported that their hospital's system for documenting supply usage is too time-consuming.
65% OR nurses report hospital's system for documenting supply usage is too time-consuming
4. Fear of disappointing and not being there for the surgeon
As already mentioned, OR nurses are extremely dedicated to their profession and strive to provide superior patient care and to support the physician whenever needed.
At the same time, they increasingly feel pressure from surgeons and their superiors to"not screw up." They know they need to be available to assist surgeons or answer questions, yet administrative tasks often distract them, making them unavailable for varying periods of time. Another constant fear is that surgeons may request a specific surgical tool that was not foreseen and omitted from the procedure cart, sending the nurse scrambling to find it.
One survey noted that 95% of nurses surveyed cited inaccurate physician preference cards as a cause for unnecessary time away from patient care. OR nurses know that if they under perform in the OR, they may find that surgeons will request other nurses be assigned to their teams.
95% OR nurses report: inaccurate preference cards take away from patient care.
5. Fear of being non-compliant
Compliance with new UDI regulations is another added responsibility that OR nurses take seriously yet has become another source of frustration. A nurse may lose her license, if, for example, an expired implant or drug is detected in surgery, she is responsible under her professional role.
The push for more UDI and chain of custody in hospitals affect the nurses in the field and the demands are increasing. Regulatory groups such as The Joint Commission expect organizations to be prepared at all times, with the correct complete documentation.
The surveyors spend more time observing patient care and safety and they judge compliance based on actual performance. Any required blood products, implants, devices, special equipment needs to match the items that are to be available in the procedure area to the patient, and verify its integrity.
As the various parts of the new UDI (Unique Device Identification) regulations take effect, it is becoming clear that many healthcare institutions are unable to meet them. Inadequate data collection systems are cited as a major barrier to compliance. How can we expect clinical staff to comply when they don't have the proper tools?
6. Fear of being the scapegoat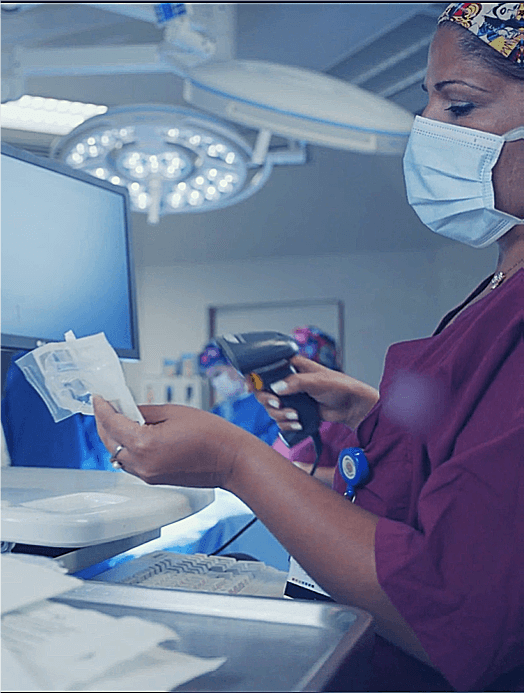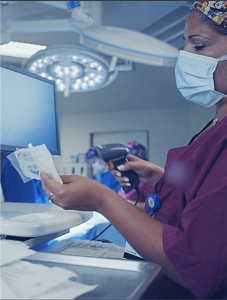 All of the issues described above have led many OR nurses to fear becoming the scapegoat for whatever could go wrong in the surgical department: surgeon rebuke for not having a specific item or tool on hand, blame for inadvertent use of expired or recalled items, and worst of all, being responsible for unsatisfactory patient outcomes.
Never Events: How Do OR Nurses Feel?
Dealing with the issues cited above has left many OR nurses dissatisfied with their chosen vocation and with a deep distrust of the support mechanisms that should be assisting them rather than burdening them with additional, non-clinical responsibilities.
A survey of 100 nurses found that 86% reported that supply chain systems bring them stress and may be contributing to burnout.
OR nurses understand that they are responsible for checking and removing recalled and expired items before they can be used on a patient, causing persistent anxiety that these items may be in OR stock rooms and that they will not "catch" them before they are opened and used.
"Anxiety overuse of recalled and expired items"  – There is a constant frustration among many ORnurses over not being able to do their inventory management duties efficiently—tasks they were not properly trained for. They find themselves dealing with confusing package labelings, such as multiple barcodes or unscannable barcodes, and annoying user interfaces that impede their chances of accurately documenting on-the-shelf inventory and consumed items. OR staff are acutely aware that administrative and inventory tasks are taking them away from patient care and safety.
"The current tools do not warn us in real-time" – OR staff have lost trust in the logistics system. They feel that Materials Management does not always understand the pressure they are under to have all the supplies they could possibly need during a procedure within reach and free of expired or recalled items. In addition, nurses believe they should not deal with recalled and expired products alone, especially when they may not know which items may have recently been recalled.
"We need the support of Materials Management" – OR staff have lost trust in the logistics system. They feel that Materials Management does not always understand the pressure they are under to have all the supplies they could possibly need during a procedure within reach and free of expired or recalled items. In addition, nurses believe they should not have to deal with recalled and expired products alone, especially when they may not know which items may have recently been recalled.
Understanding the complexity of the clinical and operational responsibilities OR nurses face daily puts hospital management in a challenging position. OR nurses' faith in the system must be restored. They understand that solutions must be found to reduce OR staff's workload and stress. Various health information technology and scanning-based innovations have been introduced in the past decade—some developed for the hospital environment and some borrowed from other industries.
However, all of the solutions have not provided a satisfactory answer to the complex and unique situation in the OR and procedural rooms.
Adapting Advanced Software or Smart Storage Solutions Has Not Solved the Problem
It's clear that we need to offer our OR nurses better tools to cope with the various-clinical responsibilities that have become part of their daily routine. In a
recent survey over 90% of OR, clinicians expressed the desire for a customized inventory documentation system developed specifically for the OR environment. The solution begins with understanding a few crucial points:
1. The tools available today to OR nurses have critical shortcomings. They were not developed for the unique environment of the surgical ward and have not been adapted successfully.
2. Clinical teams are trapped in a whirlwind of countless training on tools that do not provide standardization of documentation. As with any team, there are nurses with a more technical orientation who are comfortable with computers, and there are nurses who are less so. There are experienced nurses and new nurses just training. There are routine procedures and urgent surgeries with different charting procedures. Non-uniform documentation occurs when the hospital is dependent on a human factor.
3. OR nurses have lost faith. Many nurses have lost confidence in the institutions that should be supporting them. More than once, new systems promising to "solve the problem" have been introduced only to disappoint.
Efforts have been made to adapt technologies from other departments, or even other industries, to the unique environment of the OR.  Barcode solutions are the most common and while they may be quite effective in other hospital departments, they have not lived up to expectations in the OR. Even with barcode scanning, completion of data entry must be complemented with some level of manual keyboarding. Sometimes there is no barcode at all, in which case data must be manually input and sometimes there are too many barcodes, making it difficult to identify the correct barcode to scan. And sometimes, when the correct barcode is scanned, cumbersome user interfaces cause even more frustration.
Nurses report cases in which there is mismatching between the information the system shows and the correct information on the implant itself, such as an expiration date that does not match. In such a case, it is their responsibility to deal with and fix it – which is unnecessary administrative work. One can estimate how much precious time is wasted, especially when it comes to large quantities, such as 40 screws in a single procedure.
UDI capture which is based on barcoding is failing and here's why
A 2019 survey of hospital professionals revealed that barcoding (specifically UDI barcodes) can be a major barrier to accurate documentation. Three specific shortcomings were identified.
Multiple barcodes or no barcode on the packaging prevented 52% of respondents from scanning correctly.  It seems that UDI requirements have made this situation worse in recent years.
Unscannable barcodes were reported by 48%
Once scanned, the information often does not integrate into the hospital's ERP system.
In general, the survey found that only 50% of providers were scanning UDI barcodes into their EHR systems. In a time-sensitive environment such as the OR, nurses should not need to struggle with bar code systems developed for the manufacturing industry and not the healthcare sector, where priorities are significantly different. Is it any wonder that OR nurses are frustrated and annoyed with the current systems?
It's clear that existing tools are just a "band-aid solution" to the real problem which is gathering product information, documenting their usage and passing it on to the accounting departments so that OR staff can get back to their patient care responsibilities.
Recruiting Advanced Technologies
Today we have new, sophisticated technologies such as computer vision, advanced image processing, machine learning, and artificial intelligence that can be adapted to provide a viable solution to gathering and documenting product information in the OR and automatically transmitting it throughout existing EHR and ERP systems, while at the same time alerting to expired or recalled items.
IDENTI Medical has done just that by combining these technologies into a novel data collection system, The Snap & Go was developed with the OR's unique environment in mind. A nurse places a consumed item's packaging under a camera and "snaps" a photo. A green light indicates that the item has been successfully photographed.
This is where OR staff involvement ends and IDENTI's system takes over, capturing information on the package. Within seconds, data is routed through a global database and processed with IDENTI's artificial intelligence/machine learning algorithms. Relevant information is then sent directly to hospital ERP and EHR systems.
The rare, unidentified item is resolved by IDENTI's Back Office Service Team. Snap & Go systems from IDENTI Medical are in use in medical centers around the world. These institutions are reporting 99% item capture and data reliability, with complete elimination of expired inventory and stock-outs.
In Summary
Over the years, OR clinical staff has been asked to take on increasingly more non-clinical responsibilities, such as inventory management, including critical recall and expiry date documentation.
Surveys show that between 20-40% of a nurse's time is spent on non-clinical tasks, fostering feelings of discouragement and frustration. Anytime away from patients in the OR is detrimental to patient care and safety,
which OR staff see as their primary duty and for which they were trained.
Meeting FDA's UDI regulations – By snapping a photograph of an item's packaging, Snap & Go facilitates product documentation by accurately capturing the standard formation for AutomaticIdentification and Data Capture (AIDC). Alerts on expiration dates and recalls appear on the screen to prevent fatal errors.
While solutions to lighten the OR nurses' non-clinical duties, primarily barcode scanning or HIT software, were introduced to the OR, they have not solved the problem at its core and often inadvertently added new burdens to the clinical team. Critical product data is not being effectively gathered at point-of-use in the surgical department because the tools available to them are inadequate for the job.
IDENTI Medical set out to address this dilemma with the introduction of Snap & Go as the first solution developed with the unique environment in mind. Just by taking a picture, Snap&Go quickly checks the expiration date, lot, and serial number, makes sure everything is safe, and then automatically records the product in the patient's chart.
Unlike barcode scanning, Snap&Go captures all pertinent information just by snapping a picture. If anything is wrong with that product Snap&Go immediately lets you know it. Automatic alerts of recall and expiration dates help prevent mistakes that could harm a patient, in real-time and in the future.
The system is quick and easy for the OR staff to use and offers full visibility, automatically sending relevant data to EHR and ERP systems with minimal intervention from the OR team.
Snap & Go and you're done. OR personnel cannot be expected to take on inventory and admin responsibilities if we do not give them the tools to do so quickly and efficiently. Any time away from critical care patients compromises patient safety.
If you are a healthcare system director, an OR nurse, or part of the materials management team, we invite you to learn about our Snap & Go solution. Your perioperative team deserves it.
THIS IS THE BEST TIME TO START SAVING
Are you intrigued by the immense potential of the IDENTI ecosystem in not only streamlining operations but also significantly reducing costs?