New generation of RFID technology
Based on the new generation of RFID technology, the SmartCabinet tracks all types of items regardless of their size and positioning.
---
The only full solution on the market that allows:
Complete management for each item, including implants
A direct link between manufacturer`s warehouses and point of use
98% Charge Capture
Smart Cabinets for a variety of uses
Standing items and top shelf
---
Gastroenterology
Angiology
Electrophysiology laboratories
Vascular surgery
Neurosurgery
Hanging Items
---
Cardiology
Angiology
Electrophysiology laboratories
Shelves and Drawers Combined
---
Plastic Surgery
Orthopedics
Ophthalmology
Sutures Neurosurgery
Shelves
---
Cardiac catheterization laboratories
Orthopedics
Angiology
Electrophysiology laboratories
Neurosurgery
Drawers and Top Shelf
---
Spine
Orthopedics
Ophthalmology
Sutures
Standing items and
top shelf
Shelves and Drawers Combined
Benefits for
hospitals
Full transition to 100% consignment
Full ROI through inventory optimization at the first year
Instant notification of item consumption to all supply chain stakeholders
Increases patient safety through alerts on expiry dates and stockouts
Automatic transfer of item information in patient records
Eliminates human and administrative errors
Accurate inventory balance – no waste or shortage
Benefits for
suppliers
Full visibility over remote inventory at point-of-use
Eliminates manual counting- Less manpower on-site in hospitals
Time-to-invoice reduced by 30%
Satisfied customers – inventory always available
Protect against thefts
Maintain profitability on non-common but expensive inventory
Designed to be the optimal method of communicating through the entire supply chain
No manual data-entry and no need for a screen mounted on the cabinet
Suitable for a large quantity of products- Items can be placed at any angle
Restricted access to authorized staff only
Complies with EPCIS Standards. Medical Grade, UL, FCC certification
Plug-n-play same-day installment of the complete system
Track usage trough RFID desktop reader or use Snap & Go image-capture device
Made with anti-bacterial materials
How It Works
01

Each item is marked with an RFID tag with a simple enrollment process

02

From the moment the item is stored in the Smart Cabinet, it tracks related information of the item – expiration dates, inventory levels, recall, batch no, etc.

03

Nurse removes an item triggering an automatic report that is sent to all stakeholders. Returning an item also triggers a report.

04

Nurse reports all items used.

05

Real-time consumption information is now updated and analyzed in LogiPlatform™ AI management software.

06

LogiPlatform™ drives relevant information to the hospital EHR/ERP and Supplier ERP systems.

07

Full consignment is possible with a direct link between manufacturers warehouses and point of use.
Installations Gallery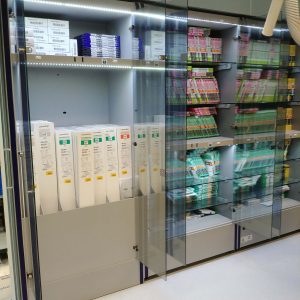 Generate insights using


LOGI

PLATFORM™ cloud-web server
24/7 customer support!
Selective access to modules, reports and data protected by privacy levels
Accessible from any browser platform
Supports international standards for uniform coding of products (GS1, EPCIS, GYIN)
Security – SSL, Encrypted database, Password renewal policy
Fully integrates with existing ERP and EHR databases
Centralized database for drugs identification
On-site inventory count – optimization and analysis reports
All cabinets are connected by a single network