The UDI system was intended to provide easier traceability of medical devices, significantly improve the effectiveness of the post-market safety-related activities for devices and allow for better controlling by healthcare and regulations authorities. It will also help to reduce safety errors and to fight against falsified devices. The use of the UDI system finally should also improve operational inventory management and waste disposal policies by health institutions and their providers. There are many options to record UDI data in hospitals, starting from paper forms and ending with digital solutions. We will provide our views on how it should be done right now.
First of all, let us make clear what the main difference is between electronic medical records (EMR) and healthcare information systems (HIS). EMR is about saving ALL patient's data, not only that related to clinical care but also including demographic details like names, contact numbers, etc. Healthcare IT encompasses an organized set of software applications used for managing information in healthcare practice or institutions, which maintains the data regarding different aspects of a patient's medical history. In other words – EMR provides storage support for UDI data, whereas he provides workflow support for UDI activities.
Now, let's look at UDI in the context of both EMR and HIS. According to FDA guidance, patient identifiers must be included in medical device labeling information but not necessarily in electronic systems. This is because there are different sets of patient identifiers (for example, Social Security Number (SSN) vs National Provider Identifier (NPI)) that may be used for devices and their associated labeling or documentation. However, it is recommended that any use of other identifiers does not hinder future efforts to match these data with other health care information systems. We all know how "easy" it can be to mix up one identifier with another… But looking on the bright side – this is an opportunity to prevent it with an application of the UDI standard, which prescribes sensors/interfaces for identification, authentication, and signature recording.
Unstructured data is everywhere in hospitals, on paper forms, medical records, etc. One of the most important problems is how to get all the information into the EMR system. Besides obvious humanitarian reasons (the patient can't remember all details about his condition or treatment), it helps the healthcare provider to make better decisions regarding patient care.
What is the UDI?
The UDI contains a series of characters, numeric and alphanumeric, that is produced through a worldwide accepted device identification standard to allow the identification of a specific medical device or surgical implant. The UDI is contained UDI-DI specific to a device, it is intended to identify and connect devices with the same intended purpose, risk class, and essential design and manufacturing characteristics. All Basic UDI-DI shall identify the device group in a unique manner. The UDI-PI identifies the unit of device production and all additional data appears on the label defined by the manufacturer: lot number, serial number, software identification, or expiry date. It is important to note that no UDI-PI information can be included in the UDI database.
According to the new rules, any manufacturer shall assign a unique UDI. The UDI carrier should be placed on the label of the device or on its packaging or in the case of reusable devices on the device itself. All information must be registered in the GUDID, an electronic global UDI database. GUDID, or as the FDA calls it AccessGUDID, is a searchable database of device identification data, such as the device identifier on the label, device name, company name, MR safety status, and premarket submission numbers. GUDID is available for anyone, including patients, caregivers, health care providers, hospitals, and industry. Entering all this data manually can be a long and tedious task… this is where Automatic identification and data capture (AIDC) tools come into place.
How to capture UDI?
AIDC refers to a group of methods that automatically collect data, identify it, and entering directly into computer systems, without human involvement. Technologies typically considered: include QR codes, bar codes, radio frequency identification (RFID), biometrics (like iris and facial recognition system), magnetic stripes, optical character recognition (OCR), smart cards, face and voice recognition.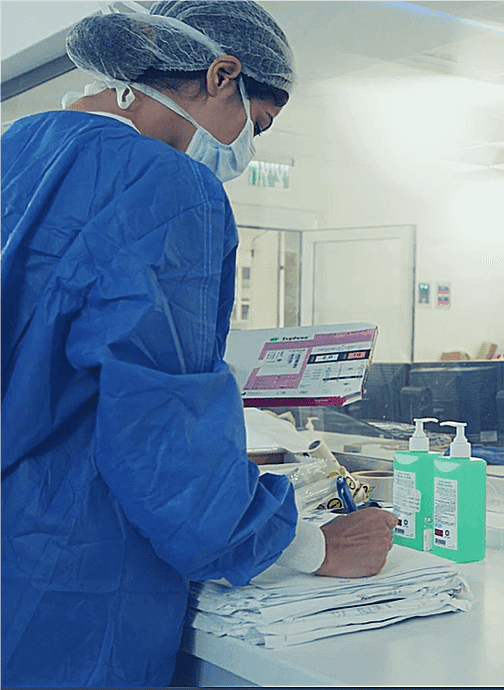 In the article, we will try to shed light on the new technology that has been recently introduced, which seems to be the most efficient and convenient way of capturing UDI data that exceeds all its competitors – the image recognition technology.
In order to understand why image recognition became the most sufficient technology, we must first understand why the most common way: barcode scanning, has failed to provide the UDI traceability.
Multiple barcodes on packaging burden the nurses- The reality, which is backed up by studies shows, that the user experience in locating the barcode, its accessibility and reliability towards the medical staff is cumbersome. A quick look at the packaging shows that the team is required to perform a high level of involvement: from "searching" for the right barcode among all the barcodes, to completing important information that is required to be documented that is not obtained from the barcode.
Barcodes only contain a catalog number – As noted above, there is a lack of uniformity in the medical world that obscures the ability to produce standards of uniform information. There are so many variables that make up the barcode and variables from the agencies that produce the brocade, the manufacturer and its methods, to the hospital itself and the monitoring methods it maintains. As a result, barcodes are continuously changing make it difficult for systems to identify the item.
Not all items have barcodes or can be tagged- Which makes it difficult for the hospital to automatically document and track all items. Respectively, the degree of involvement of the staff increases accordingly, and the reality test shows that not all the burden can be placed on the medical staff.
Meet SNAP&GO – why data capture thru image recognition is the best way?
Imagine that there is a device that can "see" the inventory itself, identify it, document all UDI information along with visual proof of use directly into the systems, and if there is unrecognized data – even fix it. And all without a human having to do anything other than place the item under the camera. Sounds like science fiction? it's not. Meet Snap & Go an award-winning system as the most innovative product for managing operating rooms inventory according to Frost & Sullivan. The patent-protected image recognition system has a small footprint consisting of a screen, and an "eye" positioned over a platform. It "sees" the product, eliminating the need for fiddly barcode scanning, and provides instant UDI with full background data from its global database. It interfaces with, and updates, hospital management systems including EHR and ERP. Snap and Go image recognition captures everything that has been used during OR surgery to ensure absolute accuracy of the cost of surgery, patient billing, and inventory updates- with a simple snap.
SNAP & GO is the only system in today's market that is capable of "Seeing" the item in an automatic UDI capture, in which full product information is digitally updated into the patient electronic record: Manufacture name, Ref, Batch\Lot, Expiration Date, Serial Number (as required by FDA UDI regulation). Improves medical record performance by automatically synchronizing logistic and clinical information. Full ability to read manufacture label without a need for any additional hospital affixed label or information on the product, such as barcode, RFID tag, hospital internal sticker.  Results in a streamlined process and less work for the teams within the hospital.
Product identification is supported by a daily-updated global manufacturer catalog list database including UDI & UPN raw data. An essential element of the system is a human back-office supported by an advanced machine learning algorithm embedded in the system enables advanced learning capabilities that utilize the data and experience of all of the worldwide users to enable rapid product identification.  Once it has been used once by any entity, it is in the database. IDENTI Medical online human back-office team provides automatic
Item Master maintenance service and updates missing information and corrects "bad data" on the fly – provides more than 99% reading accuracy.
Complete UDI compliance offering hospitals and OR these vital benefits:
Total UDI capture populates hospital systems
Charge capture of OR consumables
Quick and accurate billing
Control of stock levels, updated as they change, eliminating shortage or overstocking
Stock safety with automatic alerts of expired and recalled items
Reduced medical litigation
Efficient and nurse-friendly, quick and simple Snap and Go operation
THIS IS THE BEST TIME TO START SAVING
Are you intrigued by the immense potential of the IDENTI ecosystem in not only streamlining operations but also significantly reducing costs?