Vizient has given Snap&Go their seal of approval as innovative healthcare technology, that can benefit healthcare management.
Today we look at:
What inspired IDENTI Medical to design a next-generation point-of-use system for surgical supply documentation.
The common issues that providers face managing operating room inventory.
The 3 must-have features that make Snap&Go the OR upgrade you need.
We're proud to announce that Snap&Go has been awarded Innovative Technology Designation by Vizient, after being showcased by Southwest Solutions Group at the Vizient Innovation Technology Exchange, on October 17th in Dallas.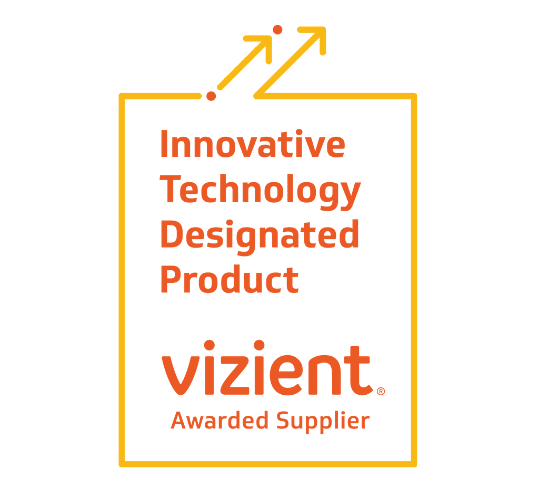 Snap&Go is next-generation data collection technology that's been custom-designed for the surgical setting. Clinical staff no longer need to fix data or account for missed charges. Managing operating room inventory is now a simple task!
The Vizient Innovative Technology Designation signals that Snap & Go has the power to enhance healthcare delivery, and in particular has value for improved clinical care, patient safety and business operations.
"Health care experts on Vizient customer-led councils evaluated SNAP&GO as part of the Innovative Technology Program," Kelly Flaharty, Vizient Senior Director of Contract Services. "This designation indicates SNAP&GO has one or more qualities that differentiates it from similar products and has potential to make an incremental improvement in health care. Congratulations to IDENTI Medical."
Snap&Go is a groundbreaking solution that transforms operating room and procedural areas from data blind spots into fully visible spaces, ensuring that management have full insight into the surgical setting.
The brand-new approach to surgical utilization uses image recognition, AI, and machine learning technologies to simplify and automate the process.
Snap& Go is designed to enhance the speed, ease, and accuracy of current workflows, such as revenue cycle reconciliation.
Why we need a new approach to data collection in surgery
The operating room is a vital data collection point for healthcare management, so ensuring all reportable items are recorded is an important task.
So why do so many hospitals, surgery centers and health facilities struggle to routinely record every reportable item used in surgery?
Hospitals, surgery centers and other healthcare facilities often fail to routinely capture surgical utilization data using the systems they have in place. Many need workarounds and manual data-entry to compensate for their limitations.
Common issues that providers face managing operating room inventory
Issues documenting surgical utilization have plagued healthcare providers for many years.
There are four issues that many healthcare organizations struggle with at the point of care.
Point of Use Systems:
Traditional systems and tools have let nurses down by failing to cope with the complexity of supply chain management in the surgical setting. Nurses end up plodding through clunky screens to fix data and record missing items.
Source of Truth:
In order to record surgical supply documentation, the hospital Item Master is used to identify every item entered into the system. Providers struggle to maintain this catalog so all too often, when items are scanned, they don't find a match, which stalls the documentation process.
Use of Non-Stock Items:
Surgeries use a range of inventory, including stock items, consignment inventory and bill-only items. As these items aren't preloaded into the system, there is an elongated process to record them.
Lack of OR Data:
Inefficient data collection systems in the OR affects vital internal workflows, such as supply chain management and medical billing. The lack of clear vision of OR inventory, as well as timely, accurate consumption data, hampers healthcare management.
These same issues come up time and again when we speak with all types of healthcare providers across the globe.
We designed Snap&Go to solve the common issues faced healthcare providers who need a point of use system that can cope with the complexities of the setting.
We completely changed the way that point of use software and systems work.
Let's look at what makes Snap&Go such a gamechanger, and why Vizient have endorsed it with their Innovative Technology Designation.
The three must-have features that make Snap&Go the OR upgrade you need
The process of surgical documentation can be broken down into three steps, let's review these and look at the unique way that Snap&Go works at each stage:
| | | |
| --- | --- | --- |
| Stage | Benefit of Snap&Go | How it works |
| Data Collection | Snap&Go captures all the required data on every single product. | The nurse simply needs to place the packet under the computer vision sensor. Image recognition technology 'reads' the packet, and in just 3 seconds all relevant data (such as UDI, batch number, expiry date), is captured. |
| Identification | With Snap&Go, identifying the products captured in the system no longer relies on the hospital item master.  Our system automatically identifies every item, whether it's a stock, consignment, or bill-only item. | All items that aren't recognized locally are referenced against a globally populated virtual item master. Should an item not be recognized, then our human back-office team will deal with any exceptions. |
| Documentation | Full interoperability with hospital systems ensures consumption data is shared promptly. | Seamless integration with the ERP, EMR and MMIS mean that this vital data is promptly shared for efficient operational management, such as inventory management, medical billing, healthcare planning. |
Snap&Go was awarded Vizient Innovation Technology Designation because it uses new technology to solve old challenges.
The use of image recognition, AI and machine learning break the cycle of inadequate point-of-use systems. Finally, there is a custom-solution for the surgical setting that simply gets the job done.
Snap&Go is the next generation of surgical supply data collection.
See our latest press release on the Vizient award:
If your healthcare provider has data blind spots in OR and procedure rooms, let's talk.
It's time to harness the power of new technology to solve healthcare management challenges.
THIS IS THE BEST TIME TO START SAVING
Are you intrigued by the immense potential of the IDENTI ecosystem in not only streamlining operations but also significantly reducing costs?