Identi Medical was recognized as one of Israel's key digital health startups addressing the global pharma data management challenges as published in 2021 Pharma Landscape Map summary by the Start-Up Nation association.
The 2021 Israeli Digital Health for Pharma Landscape Map gathered a range of startups dealing with major pharma challenges such as decision support, digital therapeutics, drug delivery, chronic disease management, remote monitoring, and clinical data management.
The SNC selected Identi's secured narcotics and drug dispensing system as one of the top startups addressing pharmacy data management challenges. The automated narcotic cabinets support hospitals and their pharmacies with safe management and secured storage of narcotics and controlled substances in operating rooms and procedure rooms.
The system includes secured face identification of the user, integrated AI inventory management software and a full interface with patient files that control the entire drug issuance process from start to finish, including real-time usage data and expiration dates management, as required by governmental health regulations.
[pdf-embedder url="https://identimedical.com/wp-content/uploads/2021/12/SNC_Pharma_Landscape_November-004.pdf" title="SNC_Pharma_Landscape_November (004)"]
The pharmacy's challenges in inventory management of drugs in the surgical units
According to recent studies, now that hospitals are back to surgical volume and also carrying ongoing Covid 19 challenges the pharma industry will face many challenges in 2022.
In recent years dealing with clinical data management has led hospitals to look for a solution that would give them control over the entire drug issuance process from start to finish, including monitoring the operating staff. A solution that will facilitate the cumbersome procedure of dealing with paperwork, and more importantly will ensure full compliance with the necessary security conditions for storing narcotics.
Here are six principal challenges the medical industry will have to face:
Manual drugs dispensing process- Manual process for dispensing narcotic drugs and managing the process of dispensing the drug in front of each doctor, make it difficult for hospital pharmacies to apply control and monitor the staff, especially when there is a large number of physicians involved.
Time wasted in filling out forms- valuable physicians' work time is lost because of the need to fill out forms and maintain a complete documentation reporting manually. In addition, in most cases, physicians' work time is wasted over chasing and worrying about signing their superiors at the end of each drug destruction or return process.
Storing drugs in an uncontrolled manner- the risk of narcotic drugs going around unattended or getting to the wrong places is obvious to everyone. Hospitals and pharmacies are required under strict regulations to store anesthetics in maximum protection, in addition to managing a control process and associating the drug with the patient and a number of procedures.
Lack of complete documentation in the patient's file – Due to manual documentation, there are cases in which there are inconsistencies in the association of the drug with the patient, or in the reporting process for the destruction of drugs. The pharmacy staff is responsible in this case as well.
Inventory quantity and expiration date control- When drug storage is done in a simple safe or through a manual process. It is very difficult for the hospital pharmacy to control the remote stock of medicines: estimating inventory quantities, avoiding shortages and keeping track of expiration dates become a major challenge.
Pharmacy inventory management software and secured cabinet
Management system for controlled substances and narcotics with safe and simple personal access includes a secured storage cabinet and an integrated web-based inventory management software.
Provides great value for hospitals and their pharmacies as well:
Limiting access to authorized personnel only
Dispenses individual drugs on demand, and allows to return semi-used vales.
Manages drug surpluses, returns and destruction documentations
Protected against theft and misuse
Centralizes inventory management automatically
Integrates it smartly with all the healthcare information systems
Provides quick and easy access to all relevant information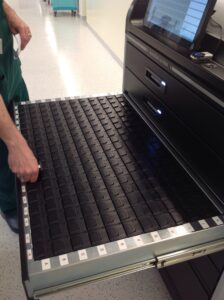 The benefits for pharmacies:
Eliminates the need for manual documentation of drug dispensing and return
A dynamic and flexible reporting system that allows the pharmacy to manage and monitor the issuance and administration of narcotic drugs in accordance with the strictest governmental regulatory requirements
The system issues alert reports and can be viewed at any given moment, portraying in-stock quantities and expiration lists
"Exceptions" such as broken ampoules or pull-out of many drugs at once are also documented
Start-Up Nation Central
Start-Up Nation Central is an independent non-profit organization to connect business, government, and leaders from around the world with Israeli innovation, offering Israeli innovators access to high-potential and previously inaccessible markets, through highly customized business engagements, and through Start-Up Nation Finder – an easy to use, up-to-date, free online platform for discovering and connecting with the thousands of relevant innovators.
THIS IS THE BEST TIME TO START SAVING
Are you intrigued by the immense potential of the IDENTI ecosystem in not only streamlining operations but also significantly reducing costs?