In this article we will discuss how to select a smart narcotics cabinet that is suitable for decentralized dispensing.
We'll look at:
Why strong security is required for decentralized dispensing systems
The 3 security features that prevent drugs diversion
Secured Narcotics Cabinet features
Decentralized dispensing is a growing trend, but it's not just a matter of installing narcotics cabinets in surgical areas.
Devolving dispensing responsibility to clinical areas requires a system that meets the demands of the setting.
Why strong security is required for decentralized dispensing systems
Drugs diversion is rife in the healthcare sector, so decentralized dispensing needs to be carefully planned and rolled out.
Automated dispensing cabinets (ADCs) are increasingly being used but selecting an appropriate system is not simple.
Not all narcotics cabinets are equal. Many are far less secure than you may think.
The aim for any healthcare organization is to achieve secure clinical dispensing with strong pharmacy oversight.
Unsecured dispensing cabinets are a ticking timebomb. Just recently a former nurse at a Surgery Center in Florida was charged with replacing 450 vials of fentanyl with saline, and this is far from an isolated case.
So, let's look at the top three security features that provide a high level of protection against drugs diversion in the healthcare setting.
Secured access for automated dispensing systems
In order to restrict access to controlled drugs and narcotics, the best automated dispensing systems have two-tier security in place.
Restricting system access: A robust cabinet will limit system entry to authorized personnel only.
Healthcare organizations may use a system that verifies staff using passwords or electronic ID cards, but these aren't ideal as they can be compromised due to theft or sharing. More robust systems offer enhanced protection via biometrics or face recognition technology – both of which require the individual themselves to be present to gain system access.
But even when the system carefully verifies the user, there are still security issues.
Drugs diversion is often carried out by trusted staff members who have been granted access to the system, so a further level of protection is required.
Restricting item access: Some carts and cabinets contain drawers that store multiple items. This set up means that a user has access to a wide range of narcotics, not just the items they need to dispense. In addition, there are no checks and balances to monitor which items individual staff members remove from the drawer.
Single cell dispensing is the most secure set up for a smart narcotics cabinet as it enables all user activity to be monitored.
Systems offering the double protection of locked drawers plus locked individual cells

provide secure, restricted access to narcotics and controlled drugs.
Individual accountability in decentralized dispensing
A crucial element of any drugs diversion prevention program is to put a system in place that tracks individual usage.
Automated Dispensing Cabinets that create a digital trail of all dispensing activity at the user and item level ensure individual accountability and optimal security.
Robust, single cell dispensing systems facilitate this close management of all dispensing activity. Users will need to request a particular drug and will be signposted to a specific cell. They will only be given access to the single cells that contain the drugs they request. All activity is digitally tracked so there is total clarity of who the user is and the drugs they accessed.
Tracked returns to prevent drugs diversion
Many systems focus on the dispensing element of narcotics management, but when it comes to drugs returns system security often falls apart.
While some systems do ensure single cell dispensing, most only offer a general compartment for returns.

This is a severe security risk. Does drugs diversion only occur at the point of dispensing?
General returns compartments are tempting for drugs diverters. They can open a drawer full of returns and return the item they don't need, then remove any other item they want. The system will not be able to identify which of the users who placed returns in the compartment was the culprit. Some hospitals require manual authorization of returns, but this process can still be problematic and is far less reliable than digital tracking.
Systems with single cells for returns are the most secure and offer complete item tracking, for both items removed and returned.
So, the three important security features that you need to check when selecting an automated dispensing cabinet are:
Secured access
Individual accountability
Single cell returns
Secured Narcotics Cabinet with advanced security features
There are many automated dispensing cabinets on the market. These may even look fairly similar, but their functionality varies, and many do not offer the sophisticated level of protection that is required for decentralized dispensing.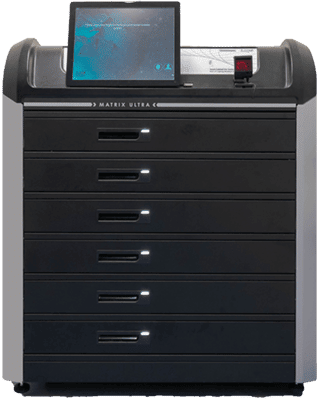 IDENTI's Secured Narcotics Cabinet complies with the ASHP Preventing Diversion of Controlled Substances guidelines and provides robust protection against drugs diversion in operating rooms and procedural spaces.
The system has the most advanced security features that provide optimal protection against drugs diversion.
The Secured Narcotics Cabinet comes in two sizes:
– A large cabinet with 990 dispensing compartments and 64 returns cells.
– A desktop cabinet with 192 dispensing compartments and 34 separate returns cells.
IDENTI's smart Narcotics Cabinet was designed especially for decentralized dispensing, allowing clinicians ease of use, while retaining full pharmacy management and control.
Contact Us to find out how your healthcare organization can put an efficient automated dispensing system in place, while at the same time ensuring high levels of security.