A backlog of used items requiring data capture is a common problem in OR and Procedure Rooms. Studies claim that 85% of nurses have difficulty documenting supplies at the point of care, but according to our experience-based data, changing one element can immediately improve utilization capture by 30%. 
Hospital medical inventory management is a key workflow and logging item usage in OR and Procedure Rooms is essential to ensure UDI compliance, full charge capture, and optimum reimbursement.
Recording chargeable items during surgery shouldn't be a long, frustrating process. But for many it is.
The burden of ensuring inventory item capture in the clinical setting is on the nurse's shoulders.
Does your OR or Procedure Room have a post-surgery 'Package Pile'?
If at the end of the surgery, your circulating nurse has a pile of packaging still needing to be electronically logged, then there is something wrong with your system.
For many, point-of-use data capture is the weakest link in the inventory chain. It happens during tension-charged procedures, where the nurse's priority has to be responding to the needs of the patient and clinical team.
Recording items, whether manually or by scanning, is always a rushed task, with a nurse's focus rightly being on handing over all items in a timely manner. Manual inputting errors and missed item capture are everyday occurrences but have a serious impact on revenue.
Logging inventory items is important but it shouldn't involve time-consuming tasks such as looking up missing data or trying to find the relevant item on dropdowns. These activities waste valuable nursing time and have an impact on job satisfaction too.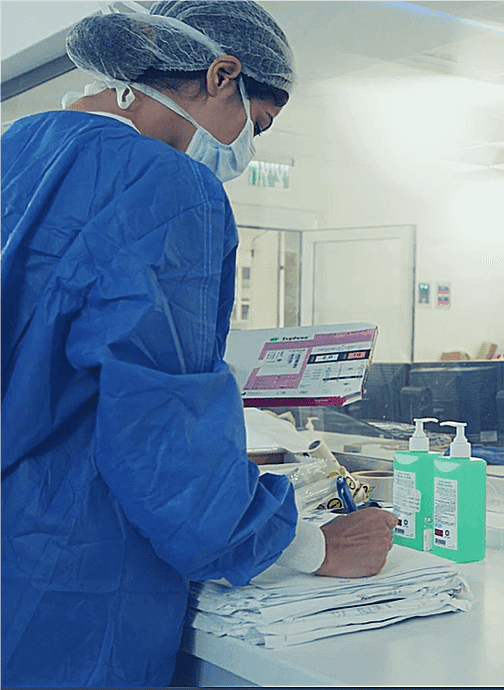 Three-second inventory logging
Snap & Go provides a solution that is guaranteed to make your Circulating Nurses smile.
Our unique inventory management software for hospitals uses advanced image recognition and object capture technology. It takes up very little space and is easily introduced into ORs and Procedure Rooms.
The system is quick and easy to use at the point of care, literally a 3-second 'snap' of the packaging, the clever tech then 'reads' the packet and stores all the data required for compliance and smooth medical inventory management. That includes the batch number, serial number, manufacturer's SKU, and expiration date.
That's it.
3 seconds.
And the job is done!
Easy capture of utilization speeds up turnover time, prevents lost revenue, and ensures a successful hospital supply chain. Based on our experience of introducing Snap & Go, we see that when you snap instead of using other item capture methods (such as barcode scanning or manual input), you can achieve:
Over 30% increase in tracked item utilization rate
Charge capture jumping up to 98% or more
Over 80% increase in digital reporting of batch expiration dates
Zero nurse time spent interacting with Materials Management to document unidentified
When assessed across the board, savings of $7.3 Million can be made!
It's a game-changer.
Contact us for an informal chat or to book a demo.
THIS IS THE BEST TIME TO START SAVING
Are you intrigued by the immense potential of the IDENTI ecosystem in not only streamlining operations but also significantly reducing costs?