Computers in general and more specifically the internet are certainly the most influential inventions of the twentieth century.  The use of software has changed the way we grasp time, perceive distance, even make new friends; most importantly, it has altered the amount of data we are able to collect and the way we use it.
"The world is being re-shaped by the convergence of social, mobile, cloud, big data, community, and other powerful forces. The combination of these technologies unlocks an incredible opportunity to connect everything together in a new way and is dramatically transforming the way we live and work" (Marc Benioff)
The use of data has evolved from a simple act of data accumulation to a web of connections that supplies us with knowledge and supports our decision-making. Adopting this approach can potentially impact every aspect of our lives but the way that the healthcare system embraced it turned data sharing between medical devices (via Internet, Intranet or RFID) into a lifesaving operation. The benefits of IoT (Internet of Things) approach, where data is transmitted between different devices ranges from relieving minor irritations to hospital inventory management and even correcting life-threatening conditions.
Turning data into knowledge in an IoT ecosystem composed of patients, medical staff, hospitals, vendors, etc. has helped improve operational efficiency in hospitals in a number of ways:
Tracking shelf life

– There are many naturally occurring factors that can affect the time frame in which manufacturing the device will maintain the ability to fully perform its intended function. In medical devices, it is even more essential to maintain the correct expiration date, as it can potentially affect lives. The IoT approach allows devices to send alerts to a shared database, making the medical inventory process simpler. In hospitals, for example, where there is a huge number of medical devices, keeping track of all their shelf life has become a non-issue.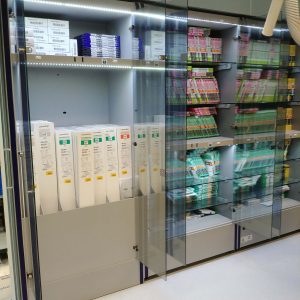 Better allocation of resources

 – Good resource allocation is essential to effective hospital cost management. Obsolete allocation methods where resources, were allocated in accordance with average consumption or over stalking, have been abandoned. They were replaced by an IoT approach system where allocation is done more accurately according to need. By tracking medical supply's inventory and by the use of smart cabinets that allow automatic monitoring of all medical inventory items we promote an economical approach towards medical resources. It balances cost management with an emphasis on doing things right (utilization) by doing the right things (allocation).
Improve patient well-being

– the use of smart cabinet, interconnected devices which can transmit their information to a unified system that later allows a joint analysis of the results, has revolutionized the face of health care. It not only managed to save both patients and physicians' time and money, but it has also helped improve patient care. For example, tracking a patient's movement inside a healthcare facility and notifying him as to when and where he is required to be, that alone can reduce his stress level and increase his well-being.
Understanding the effectiveness – and efficiency of healthcare systems is crucial when aspiring to create an efficient healthcare system. Using the latest IoT framework has made a tremendous impact and turned it into a productive, efficient, and dynamic system.
THIS IS THE BEST TIME TO START SAVING
Are you intrigued by the immense potential of the IDENTI ecosystem in not only streamlining operations but also significantly reducing costs?