In this article we take a look at the documentation challenges nurses face as they collect product usage data and document utilization in surgery. We outline the impact this can have on healthcare management.
We'll look at:
The limitations of traditional data-capture tools at the point of care.
The organizational impact of inaccurate hospital inventory data.
The tactics used to deal with inaccurate surgical documentation.
How using computer vision and

AI technology

can optimize clinical workflows by achieving quick and accurate product usage records in the EMR.
Recording usage at the point of care plays a vital role in safeguarding patients; however, time constraints and insufficient documentation tools pose challenges for circulating nurses.
Data integrity at the point of care
The point of care is known to be a tough data-capture point, and various research projects have highlighted these inefficiencies.
Several studies have looked at the time taken to complete surgical documentation and the consensus is that recording implant usage during surgery regularly takes between 12 to 18 minutes per case, depending on the specialty and documentation method used. 
It's important to note that these studies just looked at the items that were documented, but unfortunately items regularly get missed off the surgical records.
Studies have found that nurses regularly fail to document every item used in surgery, with evidence suggesting that up to 52% of items consumed by patients may not be reported at all.
OR and procedure rooms can be a black hole when it comes to data integrity.
Challenges for nurses
While nurses recognize the importance of complete medical records for patient safety, the tools at their disposal often hinder rather than aid their efforts.
Clunky systems make manual keying-in an overly complex, time-consuming task which often results in inputting errors.

Barcode scanning

is also unreliable, with some products containing numerous labels while other will have none.
Manual keying-in may be required because the scan did not pick up all required data and there are gaps that need to be entered, for example,

expiry date

.
Finding the correct label to scan is just a matter of trial and error and even when labels are successfully scanned there are still issues:

The item data may have changed since it was initially enrolled, perhaps a new batch number, or the GTIN may have been updated.
It could be a substitute item that was ordered due to a supply issue at the regular vendor.

For these reasons and more,

system exception errors while documenting usage

 make it hard to record and reconcile these products.
In addition, the point of care carries its own challenges. It doesn't operate like other settings as items can be delivered straight to the OR or procedure room, bypassing enrollment. They may not have a PO. They may not be preloaded into the Item Master. Documenting products with no digital footprint in the hospital systems takes time that nurses simply don't have.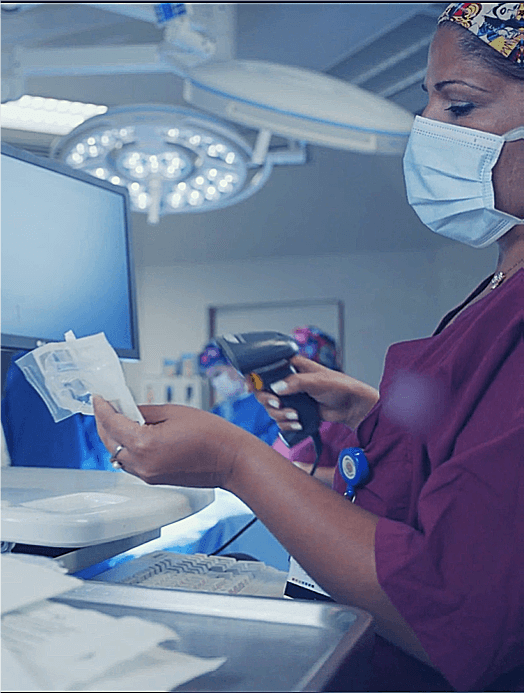 With the most common point of care data capture methods both proving to be inefficient, nurses have a tough time trying to document product usage during surgeries and procedures.
The impact of documentation difficulties for nurses
Nurses want to do a good job, but the combination of time pressures and inadequate data capture technologies can mean that documents are incorrectly or partially entered on the system or are not documented at all.
When items are not simple to scan and record there are delays and disruptions in clinical workflows while the nurse struggles to document the item using tools that have limited effectiveness in the surgical setting.
It's very easy for nurses to get side-tracked by supply chain activities. Constant documentation challenges lead to them focusing on product-tracking behind a screen, rather than focusing on patients, which ultimately carries a risk.
Incomplete and inaccurate utilization data isn't just a patient safety issue,

it has repercussions across the organization.
Organizational challenges of incomplete or incorrect usage data
Incomplete or incorrect usage data can lead to several organizational challenges, including:
Billing errors: Gaps or errors in surgical records can lead to billing errors, delayed claims and lost revenue.
Patient safety risks: Inaccurate surgical records mean that some implants used in surgery will not be associated with the patient on the hospital system. Should a

product recall

occur there is a high risk that the patient will not be identified and traced, which could have a disastrous outcome.
Inaccurate picture of inventory: If items are used but not documented then Materials Management are not aware that they have been used, so their inventory vision is compromised, and their procurement will not reflect the true level of need, which can lead to stock outs.
Distorted data insights: When there is only a partial vision of inventory and usage, data analysis is inaccurate and can lead to bad decisions.
How healthcare organizations deal with inaccurate usage data
The fact is that healthcare organizations are aware of the limitations of the systems they have in place, and many compensate for these.
In-surgery documentation: Some providers will persevere with in-surgery documentation despite the challenges. This puts pressure on nurses, can delay the next surgery and risk the nurse leaving some items unrecorded.
Post-surgery documentation: Some organizations accept that they are unable to complete all usage documentation during surgery and regularly undertake post-surgery 'catch up' documentation. This may require a 'backfill' nurse to cover the next surgery.
Team effort: The documentation of difficult items may involve additional staff from IT or materials management.
Post-surgery documentation audits may routinely take place, particulary for high-value cases. These can be an effective way to verify and correct missing or inaccurate surgical item documentation, but they are a costly and time-consuming activity that involves managerial staff from several departments, as well as nurses and physicians.
While it's good to have a safety net in place, surely addressing

the root of the problem would be a better approach?
It's time to find an efficient way to automate the data capture of product usage in the OR and procedure room.
Technology has moved on, and there is now a new way to record surgical items that achieves full and accurate usage documentation in seconds.
Finally, healthcare providers can be proactive and take preventative action against inaccurate or incomplete OR data outputs.
How technology is changing the game for product documentation in surgery
Snap & Go is a brand-new approach to surgical data capture that utilizes image recognition technology to capture full data from the product label.
The scanned image is then interpreted by an AI cloud management system, which automates the tasks of item identification and documentation.
The nurse's role in documenting product usage in surgery is reduced to a 3 second scan per item – and the tasks of collecting all relevant data on each item and recording it in the EMR is automated.
One nurse commented:
"With Snap & Go, documenting usage just takes a few seconds but it

accurately captures every reportable item on the patient file."
Benefits of Snap & Go
Snap & Go offers several benefits over traditional documentation methods, including:
Efficiency: Snap & Go is an instant

point of use documentation upgrade

, allowing nurses to capture data quickly and easily.
Accuracy: The high-resolution images captured by Snap & Go ensure that all products are accurately identified and documented, boosting point of use data integrity and ensuring efficient hospital inventory management.
Cost savings: Data supports inventory streamlining and supply chain optimization, reducing on-hand inventory value and minimizing the storage footprint.
Patient safety: Snap & Go improves

patient safety

by alerting nurses to unsafe products prior to consumption and then providing accurate documentation of all the products used during surgery – which could prove to be a lifesaver in the case of a future product recall.
Usage data: Snap & Go provides real-time visibility on utilization and delivers accurate inventory tracking. The data collected can be analyzed to improve patient outcomes as well as operational efficiency. Reports can highlight cost per surgery, cost per physician, and identify PPI standardization opportunities.
Documenting product usage during surgery is a critical aspect of patient care, as well as a key admin procedure that feeds source data to several core operational areas.
Technology streamlines workflows and improves operational efficiency
Snap & Go simplifies the task of surgical recording while at the same time improving the quality and quantity of data captured.
Snap & Go sets nurses free from time consuming documentation

and allow them to focus on patient care.
Improved data capture at the point of care is a driver for organizational efficiency, supporting streamlined inventory management in hospitals and surgery centers as well as enhanced patient safety, improved operational efficiency and better financial outcomes.
Snap & Go supports healthcare providers achieving better patient outcomes with lower case costs.
Check out our 30 second video summary of how Snap & Go supports quick and easy documentation at the point of care.
Contact us to find out how Snap & Go could add speed and efficiency to your point of care data capture process.
THIS IS THE BEST TIME TO START SAVING
Are you intrigued by the immense potential of the IDENTI ecosystem in not only streamlining operations but also significantly reducing costs?