Narcotics Management System
An automated system for the administration of controlled substances and narcotics. Includes secured storage cabinet, integrated AI inventory management software and full interface with the patient file.
---
Control of the entire drug issuance process from start to finish, including real-time usage data and intelligent generation of valuable insights.
The only solution on the market that achieves full and efficient traceability over staff and inventory while ensuring full reconciliation of drug administration regulations.
Secured Medication Cabinet
Large Cabinet
---
990 compartments to store drugs
64 separate return compartments
Table-Top Cabinet
---
192 compartments to store drugs
34 separate return compartments
Benefits for
hospitals
Placed inside core areas and pharmacies
Individual drug pull-out and return
Full visibility over inventory levels and expiring drugs with real-time alerts
Management of drug surplus returns and destruction documentation
Simple medication selection and replenishment
Strict compliance with drug control regulations
Protects against theft and misuse
Ability to track ward staff activities and elimination of dispensing mistakes and administration errors
Fully integrates with ERP and EHR
Pharmacy work
optimization
Eliminates the need for manual documentation of drug dispensing and return
Dynamic and flexible reporting system that allows the pharmacy to manage and monitor the issuance and administration of narcotic drugs in accordance with the strictest governmental regulatory requirements
The system issues alert reports and can be viewed at any given moment, portraying in-stock quantities and expiration lists
"Exceptions" such as broken ampoules or pull-out of many drugs at once are also documented
NEW!
Safe and simple face identification
The hospital may choose to access the system using facial recognition technology, which does not require removing gloves or touching the screen. Alternatively, access can be granted through biometric or password identification.
How It Works
01

Physicians and other medical personnel are recognized with biometric, card or password identification.

02

Medications are dispensed for each patient by reading the patient barcode.

03

After dispensing, physicians report actual patient usage in the hospital clinical system.

04

Left-over items are returned to the cabinet and open dosages are eliminated and reported to the system.

05

The system alerts the pharmacist when inventory is running low.

06

Pharmacist stores medications in the IDENTI secured cabinet.
Installations Gallery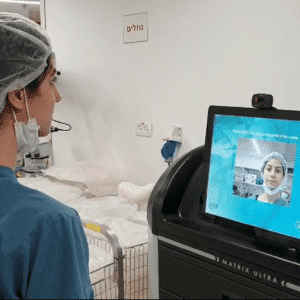 Generate insights using


LOGI

PLATFORM™ cloud-web server
24/7 customer support!
Selective access to modules, reports and data protected by privacy levels
Accessible from any browser platform
Supports international standards for uniform coding of products (GS1, EPCIS, GYIN)
Security – SSL, Encrypted database, Password renewal policy
Fully integrates with existing ERP and EHR databases
Centralized database for drugs identification
On-site inventory count – optimization and analysis reports
All devices are connected by a single network